Surgeons operating at Kent Hospital have access to the latest and most advanced robotic technology available and have teamed up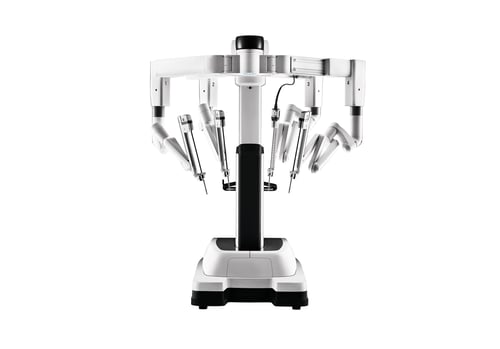 with Intuitive to provide the newest da Vinci surgical system with an advanced robotic-assisted surgical platform.
The daVinci Xi surgical system is designed to assist surgeons to perform minimally invasive surgery. Da Vinci systems are not programmed to perform surgery on their own, but rather the surgeon performs the entire surgery by controlling the robotic system with its precise movements.
Da Vinci Xi offers surgeons:
High-definition 3D vision
Magnified view
Robotic and computer assistance
The daVinci Xi robot uses specialized instrumentation, including a miniaturized surgical camera and wristed instruments (i.e., scissors, scalpels, and forceps) designed to help with precise dissection and reconstruction deep inside the body.
The surgeon is able to use more precise and deliberate movements using these small instruments. With this technology available at Kent Hospital, patients are able to stay close to home, have less pain and discomfort, receive minimal scarring, and recover faster from surgery.
Robotic surgery is not new to Kent Hospital. Kent has been committed to robotic surgery for over a decade and is proud to offer its surgeons the newest technology with the daVinci Xi.
Specialized Experts Close to Home
Due to Kent's surgical affiliation with Brigham and Women's Hospital, surgical expertise by Brigham and Women's surgeons is available close to home without having to travel to Boston. Brigham and Women's surgeons performing DaVinci robotic surgery at Kent include our Thoracic and Colorectal surgeons.